Dashe
Lock
Intro
---
The most important thing to be noted about Dashe is that the renewal and lifetime copies use two different pricing structures. The lifetime version of Dashe only supports Shopify, supporting over 200 stores and allowing for custom Shopify store tasks. The additional features that can be bought for extra monthly costs include support for Supreme and Yeezy Supply, where Dashe has recently blown up. Dashe's additional features can be bought through their dashboard for a $30/month subscription. This subscription, if cancelled, has a cooldown period of 14 days before the subscription can be repurchased and reactivated. The renewal version of Dashe includes Shopify, Yeezy Supply and Supreme, but incurs a $50/month fee. Because of Dashe's Yeezy Supply success it has blown up their resale value, with members hitting tens of pairs every release and becoming the go-to bot for Yeezy Supply for a lot of people. Dashe's Shopify success has been alright but they have been having problems with Shopify's bot protection updates. Their developer has promised a complete Shopify rewrite in version 4.0, but with no ETA on this, it seems like the main reason behind purchasing Dashe would be for use on Yeezy Supply.
Overview
---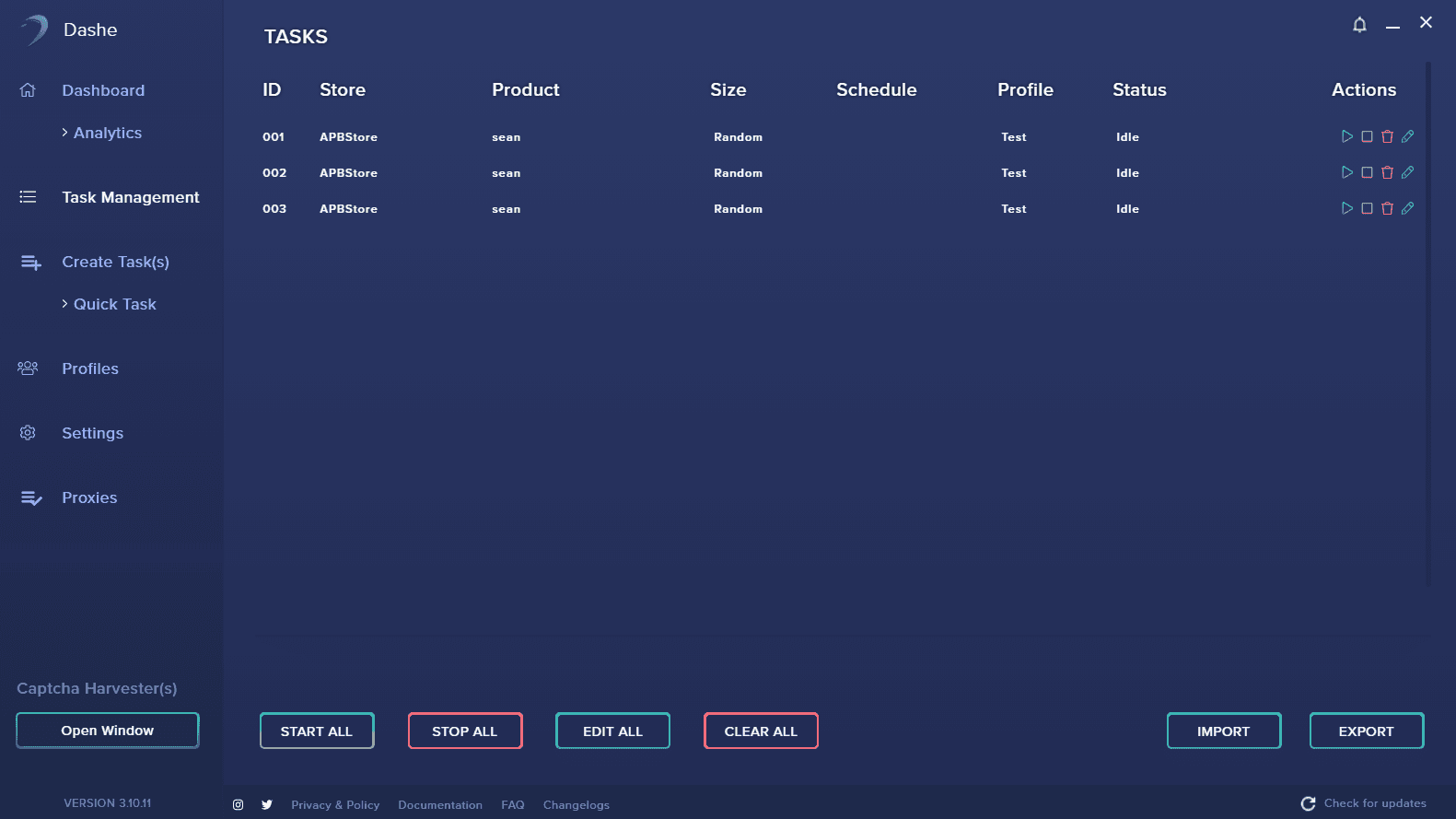 To navigate Dashe, a hotbar on the left side of the bot with buttons allows the user to move between their tasks, profiles and proxies. Dashe has a single task group in which all tasks for releases can be found. Tasks are created on the task creation page, where all the needed details are simply laid out for the user to enter or select. Profiles, Settings and Proxies sit below with a similar flow, and the Proxies tab contains a proxy tester. Dashe also has a Dashboard page which contains the Analytics tab: this shows you all your successful checkouts including the profile used, the date and time when purchased and the order number. Captcha Harvesters are opened using the Open Window button in the bottom left corner, which allows users to spawn multiple Captcha Harvesters for use with Shopify or Yeezy Supply. These harvesters have no mode, so all will be used for Supreme, Shopify or Yeezy Supply reCaptchas if loaded. The QuickTask tab allows users to set up their QuickTasks in accordance with their monitors. QuickTask size, profile and quantity can be set in the settings by the user, and when a shock drop happens the user can use the QuickTask tab to start their tasks by simply pasting in the URL they would like to run. Finally, delays for Monitor and Error are set in the settings.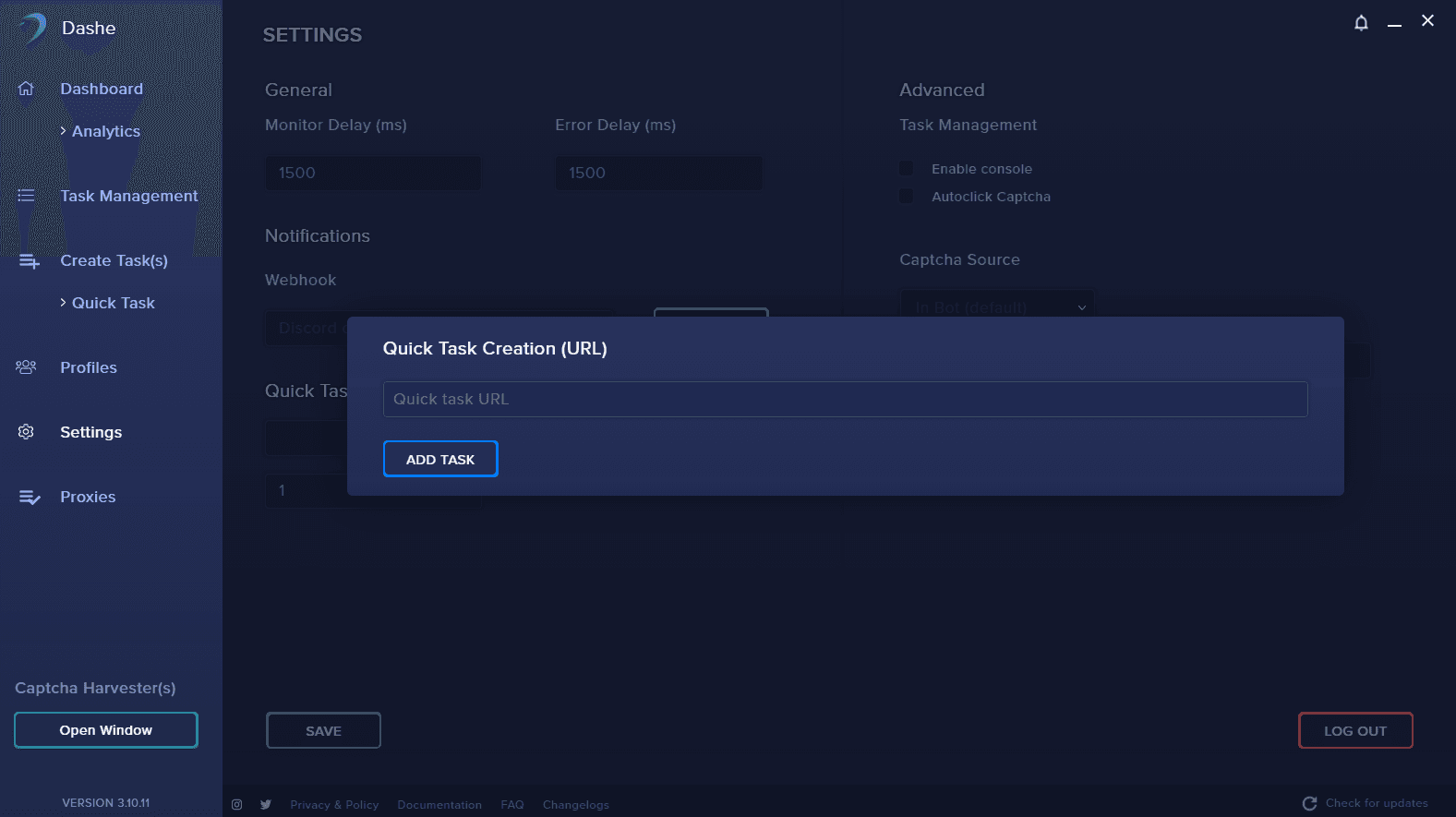 Performance
---
Dashe has been absolutely killing Yeezy Supply recently, with lots of users hitting over 10 pairs per release - and this is the reason the aftermarket price has blown up so much recently. Their success collides with the impending arrival of Dashe 4.0, which has been teased for some time and promises major updates to all modules. Dashe has also moderate success on Supreme, with their users managing to hit Air Force restocks and initial drops with ease. Unfortunately, Dashe's Shopify module, the standard module that comes with lifetime copies, is currently semi-broken and has many problems dealing with Shopify's newest bot protection updates, and therefore their success is slim. Dashe's Shopify module is functional but only on sites with no bot protection, such as skate shop stores that utilise Shopify. If purchasing Dashe, it's important to factor in the possible extra costs that would have to be met in order to have access to the Yeezy Supply and Supreme modules (as lifetime copies have to be upgraded in order to access them). If you're looking for a Shopify bot, Dashe is not the place to look until the developers push the 4.0 update, which promises a complete Shopify rewrite.
Support
---
Dashe's support system sits partly outside their Discord server, which is minimalistic in comparison to some bot Discords. Dashe's main help section sits outside their server on their website. This help section also contains lots of helpful guides which cover how to install and uninstall, the features of the dashboard and explanations of the basics (how to create profiles, tasks, import proxies and set up Harvesters). Everything that a beginner would need can be found in their support section, and users can talk to staff and ask queries using a live chat bubble embedded into the website. When a user upgrades their lifetime copy to include Yeezy Supply and Supreme, they will also have access to extra channels in the Discord detailing setups for upcoming drops, as well as the standard channels already seen. Finally, Dashe has an in-built Discord bot that can be contacted to file bugs and suggestions by typing commands via Direct Message to the bot.
Ending Words
---
Overall, Dashe is a great Yeezy Supply bot. This makes Dashe especially good for profiting from, considering that adidas' recent Yeezy releases have been selling with high profit margins. Dashe is not a bot to be picking up for Shopify at the time of writing, but this may change with 4.0, which has no estimated time of arrival but promises to be a big change to Dashe. When looking into Dashe, it's important to note that lifetime copies do not come with Yeezy Supply or Supreme as standard and will need to be purchased on the side. In terms of renting, Dashe is one of the best bots to rent for Yeezy Supply right now, and is a powerhouse that has been cooking their users multiple pairs every release.