How Much Is Stockx Shipping?
Shaba
We figured out everything you need to know about Stockx shipping!
When it comes to buying and selling on Stockx will determine how much you will end up paying. The fee associated with shipping is applied for both sellers and buyers! Within this blog, we will give you a total breakdown of all the shipping fees that get applied and how you can avoid them as both a buyer and seller!
How much are the shipping fees for a buyer?
Shipping fees are different depending on the price, weight, and category the item is in. For the most part, all shoes and electronics will be around $15. On the other hand, smaller things such as pokemon cards and apparel will be around $10. There are countless categories on StockX between shoes, apparel, electronics, trading cards, collectibles and so much more! It is hard to give an exact number for every situation but based on the price and size of the item it should give you an idea of how much you will be paying! The way the StockX ordering system works isn't very convenient for bulk buyers because there is no way to add multiple items to a cart as traditional websites do. Every item you purchase must be purchased on its own so you will have to pay the shipping on each one!
How to get free shipping as a buyer on Stockx?
Being a bulk buyer is the only way to consistently get free shipping on Stockx. Often times they will run promotional offers for free shipping but other than that you have to be a bulk buyer. This means you will have to buy 250 orders per quarter in order to receive this offer and you must opt-in to it yourself by opening a support ticket with the company. In addition to this, every time there is a new quarter the count restarts and you have to purchase an additional 250 orders to get back to the free shipping tier!
How much are the shipping fees for a seller on Stockx?
Recently the company quickly followed in the steps of eBay with their shipping charges for sellers. When you sell an item on Stockx, the company automatically deducts $4 from your payout that goes towards shipping. This was something they never did before until the end of 2022. Although this shipping charge is based on being in the United States, the chart below will give you a breakdown of all the shipping charges that will be applied based on your region!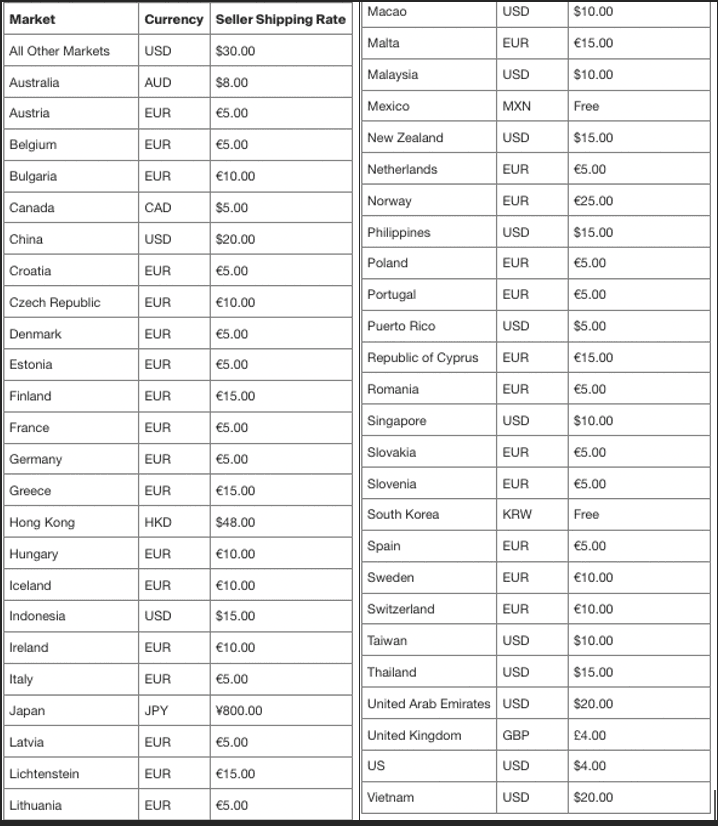 How to get free shipping fees for sellers on Stockx?
Since the company started to charge shipping fees, they have offered a way for bulk sellers to not have to pay this fee. What this means is if you are able to sell two items from the same category then you can bulk ship the items in the same package and as a result, Stockx will waive the shipping charge leading you to be able to make an extra $4 per item in the US. Although the company doesn't offer free shipping for all the regions, the vast majority of them do! If you want to know if your region is included in the free shipping promotion then make sure you check the image below!

We hope we were able to inform you on all the information you need to make more money or save money when selling and buying on the Stockx website!
If you want to learn more about other marketplaces to sell your goods make sure you check out our blog: Where should i sell my sneakers by clicking here!
Make sure you follow us on Twitter (@tidalmrkt) and on Tiktok (@tidalmarketplace)